HOLLY ROBINSON-PEETE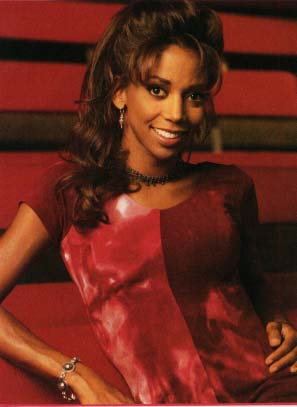 ---
Actress Holly Robinson Peete's breakthrough was playing a policewoman on "21 Jump Street," but her proudest accomplishments have taken place off the small screen. Here's why. In 1968, Holly Robinson Peete's father was cast as Gordon on a new kids' television show called "Sesame Street." Hanging out with up-and-coming stars like Big Bird and Oscar the Grouch was Peete's first encounter with show business — and the understandably positive impressions made an impact. When Peete's parents divorced, her mother, Dolores, moved the family to Malibu, California, where she became an assistant at a talent agency, quickly climbing the ranks to become an influential actor's manager. Dolores' daughter also started making a name for herself. At age 11, Peete was cast in "Kidsworld," a children's show in which she interviewed celebrities. After graduating from high school, Peete headed east to study at Sarah Lawrence College in New York. Before graduating in 1986, she scored a role in director George Lucas' box-office flop, "Howard the Duck."
Less than three months after her graduation day, Peete was cast in the new television series "21 Jump Street," a cop show that quickly became a hit with young audiences. Despite its short run, "21 Jump Street" catapulted Peete into the limelight. The actress also sang the show's theme song, landing a contract with Atlantic Records in 1988 (she later backed out of the ill-fated partnership). In 1992, Peete followed up her acting success with a role as Diana Ross in the ABC miniseries "The Jacksons: An American Dream" and a part in the TV sitcom "Hangin' With Mr. Cooper," which ran for almost five years.
In 1993, actress Lela Rochon (of "The Division") introduced Peete to NFL quarterback Rodney Peete; two years later, the couple tied the knot in a ceremony officiated by the Rev. Jesse Jackson. The couple are now proud parents of twins Ryan Elizabeth and Rodney Jackson. In honor of Holly's father, who was diagnosed with Parkinson's disease while the actress was still in college, the philanthropic pair founded the HollyRod Foundation to assist underprivileged Parkinson's patients. The Peetes also organize a celebrity fashion show at the Super Bowl each year to support the fight against breast cancer.
---
Free JavaScripts provided
by The JavaScript Source